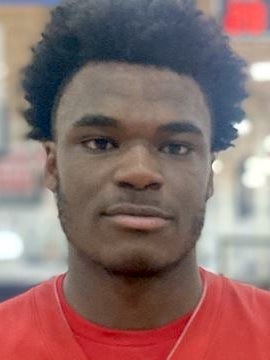 DONNELL DOBBINS 443-208-0300
Exceptional athlete with an elite vertical leap

Strong, with a good frame and broad shoulders

Aggressive finisher at the basket

Face-up scoring potential

High motor, as well as being a tenacious rebounder

Do it all hybrid forward who can and will contribute in almost every way

Versatile on the defensive end, has the potential to guard 1-4 and the occasional smaller 5
Ball handling needs to improve, especially playing on the perimeter more

Not much of a shot creator at this point in his development

Needs to improve his long-range shooting and widen his base on his jumper

Can sometimes play too fast and get out of control
Jarace Walker is a physical 6'8 hybrid forward who plays hard, fast, and at a tenacious level at all times. He is an elite athlete who also has so much raw power, which helps him be such a versatile defender, rebounder, and finisher. He plays with a swagger and confidence that echoes his play style. Walker does a bit of everything on the floor; however, he does need to improve his handles, pace, shooting form and shot creation to separate himself from some other players in his class.
NBPA Top 100 - Charlottesville, VA - 6/11-14/2019

Undersized big with extremely long arms. Nice build physically to carve out space on the interior.

UAA Finals - Atlanta, GA - 7/11-14/2019
Jarace has Point Guard skills, he has a good handle to create for himself off the dribble and likes to look for his teammates. He has good vision to see over the top of the defense. He can take a defensive rebound, push it in transition to can get in the lane, or find an open shooter. Can move his feet on defense, watched him apply pressure in the backcourt and cause a 10-sec call.
USA Basketball - Colorado Springs, CO ? 7/26-28/2019

Big frame and super skilled with the ball in his hands. He has a PF build but is more of a PG. Finds open teammates, gets in the lane off the dribble, finishes with contact. Jumper can use a little work.

USA Basketball - Colorado Springs, CO - 10/11-13/2019
Point Forward that is struggling to find a fit when he does not have the ball in his hands. With the ball, he is a great passer and creator off the dribble. He has a strong frame. Has a decent stroke from the wing but he does tend to drift to his left on his jump shot.
Memphis Hoopfest - Memphis, TN - 1/3-4/2020

Handling the ball well on the perimeter, getting out in transition. Defending on the perimeter. Nice stroke off the dribble from behind the 3pt line.
21-22 NIBC Season Stats
16.7 PTS || 8.2 REB || 3.5 AST || 1.1 STL || 66.0 FG%